Only with a mobile car, or a few sets of tables and chairs on the sidewalk into a coffee shop ... but also sometimes placed into a luxury system in high-end apartment buildings and hotels. Currently, diners enjoy coffee more and more demanding. They not only come to drink coffee but also enjoy the beauty of the shop. That is why the owner must design a unique and attractive design. HUCAFOOD would like to introduce to you the most popular coffee shop business models today.
BUSINESS MODEL TAKE AWAY COFFEE
The take-away coffee shop business model - the coffee for the busy era is chosen by customers.
Take away coffee has been in the world for decades, and Take away has received a warm welcome from young people. By 2012, take-away coffee has become a big trend. Convenience, fastness and modernity is the attraction of this type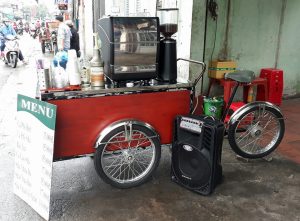 The target customers of take away cafes are students, students and office workers. A reasonable place to do business is school, office, commercial, where there are many foreign visitors, ...
This coffee business model has the advantages of investment capital and small area. You only need an area for making coffee or simply a stroller because customers do not drink at the store. If your business is good, after 3 months you will get your capital back.
COFFEE BUSINESS BY THEMES
Choose the coffee shop business model that attracts the most customers according to the "theme" that represents your coffee shop's unique qualities. With this model, the style of the restaurant will bear the imprint of the owner. Many coffee shops with unique styles were born such as flower coffee, book coffee, magic coffee, cat coffee,…. Customers coming to the restaurant are people with the same interests. This type also attracts the attention of young people. They come here to check-in and show pictures on social networks. A unique coffee shop will be promoted by customers for free. Thus, choosing the location and advertising is extremely important. Investing in advertising, customers will know you.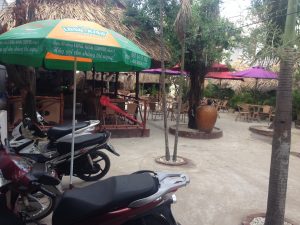 business cafe

24 / 24H COFFEE
This is a special cafe model for those who do not sleep. As the name suggests, the final coffee will not have time to close. The shop will be open 24 / 24h. This is the difference to attract customers. Once the others are closed, your store will be unique.
Target customers for the coffee shop are those who work overnight or need quiet to create. Let them have the quietest and most comfortable space. Your coffee shop will get points.
Currently, the model of coffee shop business that attracts the most customers is still quite few. Many people worry that there is not enough capacity to open a restaurant 24/24. Try new one. This model has great potential, especially in big cities. Maybe you will succeed beyond your imagination.